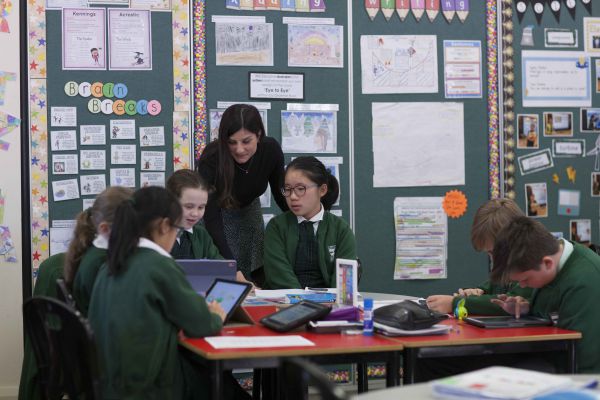 At St Francis Xavier Catholic Primary School Ashbury, the belief that all of us have more to learn has been helping children get their best possible start studying Maths and English.
Literacy and numeracy coach Brian Anderson has helped make sure teachers stay up to date on the best modern techniques for building student skills, boosting ability as reflected in ongoing testing.
NAPLAN results have lifted since Mr Anderson's coaching role originated in 2017, with the school noting strong learning growth between years 3 and 5 and years 5 and 7. The school's 2018 NAPLAN learning growth in numeracy was some of the highest among Sydney Catholic schools, and well ahead of the national average.
Mr Anderson, who is also the school's assistant principal, has access to extensive evidence-based professional development through his position, which he has then been able to share with staff. Coaching targets a different subject area each year, with a consistent focus on English and Mathematics.
"It's important to get English and Maths right because they are the building blocks for all the other key learning areas, and to function and live in this world you have to be literate and numerate," said Mr Anderson.
"Over the last three years we've become very rigorous in our approach to those subjects. We're very much a school that builds on professional learning, and we're constantly building teacher practice and professional dialogue."
Each child is continually assessed to ensure they don't fall behind at crucial early stages in English and Maths, and the school introduces new evidence-based teaching whenever necessary to ensure staff are operating using the latest knowledge and research.
Recently, leadership have introduced the SpellIt and InitialIt programs, highly structured initiatives that offer teachers clear markers and guidelines in building early student numeracy.
"The programs have given teachers real confidence – SpellIt for example is very systematic, and a very explicit method of teaching. Even teachers who initially had a very different teaching style now have great things to say about it."
"I'm also constantly tracking data on how the programs are supporting student learning, and I have conversations with teachers that filter down to how they're teaching."
"What we're seeing is unbelievably improved reading results," said Principal Margaret Morgan, "and we've been able to supply teachers with a lot of resources to roll the program out, so it's not another thing they need to do.